Last update: Nov 12, 2019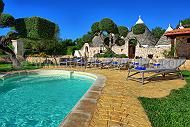 Area: Apulia
Number of people: 7
Number of bedrooms: 3
Number of bathrooms: 2
Weekly prices: from 645,00 € to 3.500,00 €
Renting Trullo Esteban will offer you a truly unique experience in one of the most beautiful areas in Italy: this part of Apulia is the only place where you can find this type of accommodation. 
Trullo Esteban has a beautifully maintained garden and a private swimming pool to add a touch of fun to your stay.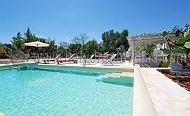 Area: Apulia
Number of people: 8
Number of bedrooms: 3
Number of bathrooms: 3
Trullo Mandorli is a newly renovated charming complex of trulli with a private pool and outdoor barbecue, set in the countryside with a panoramic view of the hills of the Itria Valley.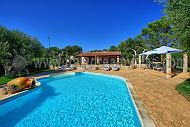 Area: Apulia
Number of people: 4
Number of bedrooms: 2
Number of bathrooms: 1
Weekly prices: from 440,00 € to 2.700,00 €
Villetta Angela, a beautiful holiday home in Apulia, will leave you just a stone's throw from the most beautiful places to visit in the wonderful region of Italy