Last update: Jan 24, 2022
Area: Villas Portugal
Number of people: 11
Number of bedrooms: 5
Number of bathrooms: 5
Weekly prices: from 2.198,00 € to 6.587,00 €
Villa Agua is a beautiful property located only 30 meters from the beach and the calm water on the Troia peninsula.  The villa can comfortably accommodate up to eleven people and is a perfect choice for those seeking relaxation at an exclusive resort in Portugal.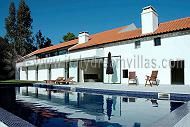 Area: Villas Portugal
Number of people: 16
Number of bedrooms: 8
Number of bathrooms: 6
Weekly prices: from 1.862,00 € to 4.676,00 €
Villa Laguna sleeps up to 16 people, and is located close to the town of Sesimbra. This modern villa is an excellent accommodation for large groups like families, relatives or friends.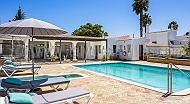 Area: Villas Portugal
Number of people: 39
Number of bedrooms: 16
Number of bathrooms: 16
Weekly prices: from 7.700,00 € to 16.842,00 €
This lovely resort is located just outside the lively centre of Carvoeiro. From the moment you step foot into the resort you will feel an authentic beach ambiance. Ten spacious apartments are built around the resort swimming pool and lounge area, creating a very private and relaxing setting.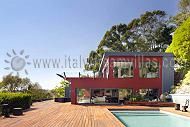 Area: Villas Portugal
Number of people: 14
Number of bedrooms: 5
Number of bathrooms: 5
Weekly prices: from 2.548,00 € to 6.783,00 €
This stylish and modern villa is located in a quiet area, a few miles from Cascais and about 15 minutes from the Quinta da Marinha. Friends and families can spend luxurious holidays in this fully air-conditioned villa with stunning sea views.