Last update: Aug 26, 2019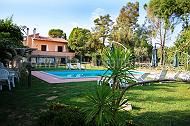 Area: Latium: Roma and surroundings
Number of people: 8
Number of bedrooms: 5
Number of bathrooms: 5
Weekly prices: from 1.120,00 € to 1.890,00 €
Casa Grin is an elegant country house, built in rustic style, located in northern Lazio in a panoramic position on the green hills covered with hazelnut trees, vineyards and olive groves near the village of Corchiano, where there are shops and services.
Area: Latium: Roma and surroundings
Number of people: 8
Number of bedrooms: 4
Number of bathrooms: 4
Weekly prices: from 1.400,00 € to 2.800,00 €
Villa Circe is a beautiful villa situated on a very panoramic position, around 400mt far from the sea and the beach and only 100 m from the characteristic village of San Felice Circeo. This property is the ideal place for those who are searching for a relaxing holiday at the sea without using a car to move around.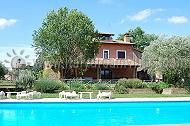 Area: Latium: Roma and surroundings
Number of people: 14
Number of bedrooms: 6
Number of bathrooms: 6
Weekly prices: from 1.666,00 € to 2.688,00 €
Villa Tuscia is an enchanting structure near the WWF Oasis of Corchiano, which enjoys a panoramic position all over the green hills grown with hazelnut trees, vines and olive groves. Villa Tuscia is in southern Tuscia only 60 km from Rome.